Surimi
Westward Seafood's Surimi Block is 100% natural, wild, sustainable, and traceable to its source. It is made under strict quality control to maintain our stringent specifications and quality ingredients. Made from genuine 100% Alaskan Pollock, our Surimi Block is used to produce today's finest Surimi Seafood. From sandwiches and sushi rolls to salads and pasta, Surimi is an easy, healthy, and economical way to add the wonderful taste of seafood to all your recipes.
From the Gulf of Alaska to the Bering Sea, Westward Seafood - part of Maruha-Nichiro, a group of worldwide partners - provides the best seafood we can find from the finest waters in the world.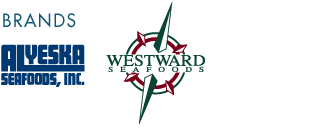 Specifications
Product: Surimi blocks
Description: Produced from 100% Wild Alaskan Pollock, Single-Frozen, MSC Certified
Season: ?A? January to June, ?B? June to October
Availability: Year Round
Brands: Westward, Western Alaska, Alyeska
Master Case: 2/22lbs
Case Dimension: 4? x 14? x 23?
Case Cube: 0.81 qb ft
Handling Instructions: Perishable Keep Frozen
Nutrition Facts
Serving Size: 3.5oz (100g) — baked, broiled
Amount per serving
Calories: 110
Calories from Fat: 10
Total Fat: 1g — % Daily Value*: 2%
Saturated Fat: 0g — % Daily Value*: 0%
Trans Fat: 0g
Cholesterol: 95mg — % Daily Value*: 32%
Sodium: 115mg — % Daily Value*: 5%
Total Carbohydrates: 0g — % Daily Value*: 0%
Dietary Fiber: 0g — % Daily Value*: 0%
Sugars: 0g
Protein: 23g
Omega-3 Fatty Acids: .5g
Omega-3 values represent the sum of eicosapentaenoic acid (EPA) and docosahexaenoic acid (DHA).
Vitamin A: 2%
Vitamin C: 0%
Calcium: 0%
Iron: 2%
*Percent Daily Values based on a 2,000 calorie diet.
Fishing Region: Bering Sea
Alaskan Harbor: Dutch Harbor
Dutch Harbor
Wild, All Natural, Sustainable and Traceable