Halibut
Naturally lean and with a firm, succulent texture and flavor, Halibut has been called "the steak of seafood." As the world's premium whitefish, it's a natural for a variety of dishes, lending a mild, slightly sweet flavor to any signature recipe. All of our Halibut is 100% natural, wild, sustainable, and traceable to its source.
From the Bering Sea to the shores of Southeast Alaska, Halibut can be found in the deep, icy waters surrounding Alaska's south coasts - some of the best-managed waters in the world. Westward Seafood - part of Maruha-Nichiro, a group of worldwide partners - provides the best seafood from around the world.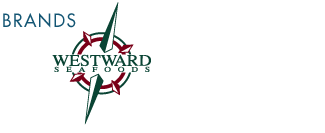 Specifications
Species: Hippoglossus stenolpis
Description: Wild Alaskan, Single-Frozen, 100% Natural, MSC Certified
Fletch Size: 1-3, 3-5 ,5-8lb
H&G Size: 10-20, 20-40, 40-60, 60-80, 80-100, 100-up
Season: February to November
Availability: Year Round
Master Case: Fletch 1 x 25 lb, 1 x 50 lb, 1 x 100 lb, Tote 1,250 lb
Case Dimension: 1 x 50 lb: 29? x 14? x 8?
Case Cube: 1.88
Handling Instructions: Perishable Keep Frozen
Halibut Collar & Cheeks available. Contact your sales representative.
Nutrition Facts
Serving Size: 3.5oz (100g) — baked, broiled
Amount per serving
Calories: 140
Calories from Fat: 25
Total Fat: 3g — % Daily Value*: 4%
Saturated Fat: 0g — % Daily Value*: 0%
Trans Fat: 0g
Cholesterol: 40mg — % Daily Value*: 14%
Sodium: 70mg — % Daily Value*: 3%
Total Carbohydrates: 0g — % Daily Value*: 0%
Dietary Fiber: 0g — % Daily Value*: 0%
Sugars: 0g
Protein: 26g
Omega-3 Fatty Acids: .5g
Omega-3 values represent the sum of eicosapentaenoic acid (EPA) and docosahexaenoic acid (DHA).
Vitamin A: 4%
Vitamin C: 0%
Calcium: 6%
Iron: 6%
*Percent Daily Values based on a 2,000 calorie diet.
Fishing Region: Bering Sea
Alaskan Harbor: Dutch Harbor
Dutch Harbor
Wild, All Natural, Sustainable and Traceable