Black Cod
With a melt-in-your-mouth texture, rich, succulent flavor, and velvety texture, it's no wonder that Black Cod is one of the hottest seafood trends around. Not only that, but its snow-white fillets are rich in heart-healthy Omega-3 fatty acids. All of our Black Cod is 100% natural, wild, sustainable, and traceable to its source.
Alaska boasts the largest Black Cod population in the world, and Westward Seafood is proud to support the sustainable and abundant practices that help ensure that Black Cod continues to be prosperous. Westward Seafood – part of Maruha-Nichiro, a group of worldwide partners – provides the best seafood we can from the finest waters in the world.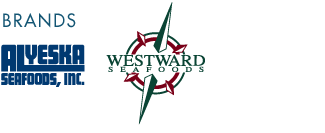 Specifications
Species: Anoplopoma fimbria
Description: Wild Alaskan, Single-Frozen, 100% Natural, MSC Certified
H&G Size: 1-2, 2-3, 3-5, 5-7, 7+ up lb
Season: February to November
Availability: Year Round
Master Case: 1 x 50 lb
Case Dimension: 29" x 14" x 8"
Case Cube: 1.88
Handling Instructions: Perishable Keep Frozen
Nutrition Facts
Serving Size: 3.5oz (100g) — baked, broiled
Amount per serving
Calories: 250
Calories from Fat: 176
Total Fat: 19.6g — % Daily Value*: 30%
Saturated Fat: 4g — % Daily Value*: 20%
Trans Fat: 0g
Cholesterol: 63mg — % Daily Value*: 21%
Sodium: 72mg — % Daily Value*: 3%
Total Carbohydrates: 0g — % Daily Value*: 0%
Dietary Fiber: 0g — % Daily Value*: 0%
Sugars: 0g
Protein: 17g
Omega-3 Fatty Acids: 1.8g
Omega-3 values represent the sum of eicosapentaenoic acid (EPA) and docosahexaenoic acid (DHA).
Vitamin A: 7%
Vitamin C: 0%
Calcium: 4%
Iron: 9%
*Percent Daily Values based on a 2,000 calorie diet.
Fishing Region: Bering Sea
Alaskan Harbor: Dutch Harbor
Dutch Harbor
Wild, All Natural, Sustainable and Traceable