Brown King Crab
Slightly smaller than Red King Crab, Brown King Crab has a delitefully sweet flavor. Just as versatile and delectable, Brown King Crab is a specialty fishery and is a cost-effective King Crab species. All of our crab is 100% natural, wild, sustainable, and traceable to its source.
Westward Seafood obtains its Brown King Crab from many locations in the Bering Sea. Westward Seafood - part of Maruha- Nichiro, a group of worldwide partners - provides the best seafood from some of the best-managed waters in the world.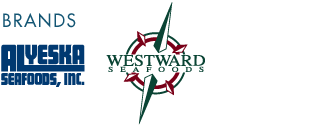 Specifications
Species: Lithodes aequispinus
Description: Wild Alaskan, Single-Frozen,100% Natural
Cluster Size: OR / 700g under & 700g over
Season: August to May
Availability: Seasonal
Master Case: 1 x 40 lb, 1 x 20 lb
Case Dimension: 1 x 40: 22.75? x 19? x 8.25? / 1 x 20: 22? x 14? x 6.5?
Case Cube: 2.14
Handling Instructions: Perishable Keep Frozen
Leg and Claws and other packs available upon request.
Contact your sales representative.
Nutrition Facts
Serving Size: 3.5oz (100g) — baked, broiled
Amount per serving
Calories: 100
Calories from Fat: 15
Total Fat: 1.5g — % Daily Value*: 2%
Saturated Fat: 0g — % Daily Value*: 0%
Trans Fat: 0g
Cholesterol: 55mg — % Daily Value*: 18%
Sodium: 1060mg — % Daily Value*: 44%
Total Carbohydrates: 0g — % Daily Value*: 0%
Dietary Fiber: 0g — % Daily Value*: 0%
Sugars: 0g
Protein: 19g
Omega-3 Fatty Acids: .4g
Omega-3 values represent the sum of eicosapentaenoic acid (EPA) and docosahexaenoic acid (DHA).
Vitamin A: 0%
Vitamin C: 15%
Calcium: 6%
Iron: 4%
*Percent Daily Values based on a 2,000 calorie diet.
Fishing Region: Bering Sea
Alaskan Harbor: Dutch Harbor
Dutch Harbor
Wild, All Natural, Sustainable and Traceable