Red King Crab
Known for its sweet flavor and tender texture, Red King Crab is often recognized as the most impressive and widely enjoyed seafood the ocean has to offer. Red King Crab is prized for its versatile and delectable white body and leg meat. All of our crab is 100% natural, wild, sustainable, and traceable to its source.
Westward Seafood obtains its Red King Crab from many locations in the Bering Sea. Westward Seafood - part of Maruha-Nichiro, a group of worldwide partners - provides the best seafood from some of the best-managed waters in the world.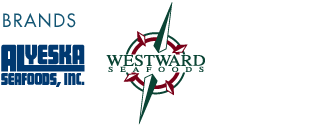 Specifications
Species: Paralithodes camtschaticus
Description: Wild Alaskan, Single-Frozen,100% Natural
Cluster Size: OR / 900g under & 900g over
Season: October to January
Availability: Seasonal
Master Case: 1 x 40 lb, 1 x 20 lb
Case Dimension: 1 x 40: 22.75? x 19? x 8.25? / 1 x 20: 22? x 14? x 6.5?
Case Cube: 2.14
Handling Instructions: Perishable Keep Frozen
Leg and Claws and other packs available upon request.
Contact your sales representative.
Nutrition Facts
Serving Size: 3.5oz (100g) — baked, broiled
Amount per serving
Calories: 100
Calories from Fat: 15
Total Fat: 1.5g — % Daily Value*: 2%
Saturated Fat: 0g — % Daily Value*: 0%
Trans Fat: 0g
Cholesterol: 55mg — % Daily Value*: 18%
Sodium: 1060mg — % Daily Value*: 44%
Total Carbohydrates: 0g — % Daily Value*: 0%
Dietary Fiber: 0g — % Daily Value*: 0%
Sugars: 0g
Protein: 19g
Omega-3 Fatty Acids: .4g
Omega-3 values represent the sum of eicosapentaenoic acid (EPA) and docosahexaenoic acid (DHA).
Vitamin A: 0%
Vitamin C: 15%
Calcium: 6%
Iron: 4%
*Percent Daily Values based on a 2,000 calorie diet.
Fishing Region: Bering Sea
Alaskan Harbor: Dutch Harbor
Dutch Harbor
Wild, All Natural, Sustainable and Traceable